Utility Bill Printing and Mailing Service
For utility companies that print 2000 plus utility bills per month, our services are paid for in full by earning postage discounts from the USPS.
We pay the Postoffice at the discounted rate. The Utility pays us at the full postcard rate; which is currently $0.33 per postcard. Our pay is the difference.
Here is what Wood Software can do for the price of a postcard stamp:
Provide the Utility Billing Software
Provide the Software maintenance
Provide the Training and support in the proper use of the software
Assist in the conversion of data from the current software used by the utility to the Wood Software format
Provide the Hosting and backup of data
Pay the postage
CASS certify the addresses
Provide the postcards
Print the postcard utility bills
Print the

Intelligent Mail

barcodes on the bills
Print the bills in full color
Print Customer's Logo on the bills
Deliver the bills to the Business Mail Entry Unit (BMEU) for processing in Memphis, TN
Bills will be printed & delivered to BMEU by the next workday close of business of BMEU
Utilities that print less than 2000 bills per month, price is postage plus 13 cents.
Utilities that do Stand-alone Landfill Billing, price is postage plus 13 cents.
Internet access is required.
References provided upon request.
Wood Software has been printing and mailing postcard utility bills over the internet since November 2009. We currently barcode, print and deliver several thousand utility bills a month. We have never had a single serious complaint.
Wood Software Inc. was established in 1983 and Our Utility Billing Software was one of our first products developed.
Contact Tim Harris at 870-935-2308 or tim@woodasp.net for more details.
Sample Utility Bill Card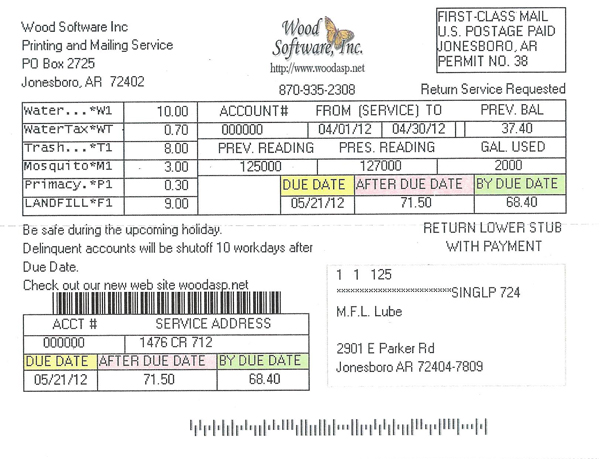 Receipt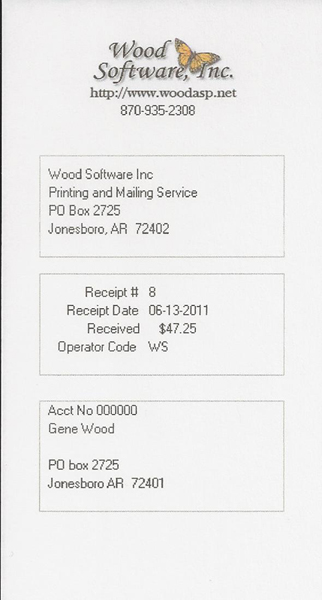 ---
870-935-2308 phone / 870-935-0702 fax
© 1998-2013 Wood Software, Inc. - All Rights Reserved
Download: Teamviewer 3 2016 Payroll Update